And now...
We confess that this text has been completely rewritten after our coming back from Killarney... Dry facts and informational rigidity are softened and blurred, like water paints, with the feelings from meeting with real people... town... Ireland...
Sun changed rains... grey sky in the gaps of clouds became blue... and, if in the morning, at about eight o'clock, having looked out of the window, we found raindrops insistently tapping roofs and paving, that absolutely couldn't mean that all the plans were at risk... No... we didn't quite want to overcome the temper of Irish weather... It was our friend, again and again every morning changing its anger for mercy, already in a couple of hours, by the time of the beginning of our next multi-kilometer trip, smiling from its sunny cheek...
Yes-yes... we have forgotten nothing...
About the fact, for example, that Michael was born on April, 2, 1977 not in Killarney, but in Heidelberg... And lived there the first two years of his life, only after that having moved together with his mum Adel and dad Josef to Ireland...
Initially, this site had to have the name "Monk and Monkey"... As the key to understanding of Michael's character... the man who combines the features of two very different peoples... German and Irish... But, after the meetings with real persons, not distorted by interviews in newspapers and magazines, everything changes at first, last and all the time... And you understand that you can't permit yourself a lot of things... You have no right for teasing and familiarity of the tone... because you sincerely respect the people whom you came to know... and feel deep sympathy towards them... you understand the feelings they may prove due to incorrect remarks and careless words read on paper lists or web pages...
And you want to do what you've started to do in the right way...
But the epigraph... the initial epigraph, we left it... Because that thought of himself was expressed by Michael personally, and because we had the possibility to make sure with our own eyes, that the idea to bring it on the home page was approved by the person whom is very dear to us...
Thank you, Josef...
"I suppose the German side wants to keep everything in control,
and the Irish side wants to wreak havoc!"
Ireland... Killarney... West End House...
We wanted very much to avoid recording tourist advertising recitative... Prospects and booklets may recommend many things, but explain almost nothing...
And, how can you describe this country... in which words?..
She's hard like a grandma?s overworked horny hand, which is tenderly palming your head...
She's warm and healthy as milk fresh from the black cow with yellow label on its ear...

Killarney is located in the south-west of Ireland, in the county Kerry...
The motto on the band of city coat of arms says: "Cill Airne" - "The Church of Blackthorn Berries"... Maybe, it should remind of some important historical event...
But, maybe it is clear only to the consecrate, having remained some original ciphered text...
By the way, ancient Irishmen made perfect wine of blackthorn berries...
"From berries they made puree, having previously boiled them well, left at the ambient temperature for a certain period of time, then added honey, placed the mixture into the close vessel and dug it into the earth for 6 weeks, and then drank it after having filtered."

The town is located to the north from MacGillicuddy Reeks or, in Gaelic, Na Cruacha Dubha... The mountains got their name in honour of MacGillicuddy clan which owned these lands up to the very end of the twentieth century... If you want to be even more exact in determination of Killarney location, you can look for it on the north-western bank of lake Lough Lein/Leane... In fact, such "Lake of Cognition" is not the only one in county Kerry... Beside for the biggest one, there's also Muckross Lake (or Middle Lake) and Upper Lake...
And more thing... between the "Lake of Cognition" and the "Middle Lake" one may have a walk in the unique relict yewen grove... and, if you are lucky, to meet red deer... and if you are as lucky as we are, you'll see them not once, but even three times...
No, our dear friends, you can't talk about Michael's motherland in such words and expressions...
Let's do it this way: contrary to all existing rules of normal sites, we offer you to see the place where his childhood had passed...
So:

Killarney National Park (Irish: Pairc Naisiunta Chill Airne)...
(10 minutes of the slowest walk from West End House)...

St. Mary's Cathedral,
which is located just across the road from West End House...

Muckross House & Muckross Abbey...
where, if you want, you can get also on foot... and never regret about that... if you're too lazy to travel in such a way ? hire a coach with a talkative sympathetic coachman and hairy-legged lovely horse...

Ross Castle... seen by us in its whole severity of a grey windy morning... quite autumn one... which has blown our ears and our bones through...
By the way, during the war against the British guided by Oliver Cromwell, Ross Castle was one the last to fall and was soon returned to the lessees who managed to prove that their heir was yet too young to take part in the rebellion...
So, what's the drift of all that?
Probably, we wanted to note that in the serial "The Devil's Whore" Michael would play the part of Thomas Reignsborough... The glorious scipper... the colonel... the leader of levellers... the right hand of Oliver himself... not having been afraid to tell the truth to his friend who was by degrees becoming a dictator...
But, about that later... later...
and now few more words about the castle...
"The head of O'Donahue clan who built Ross as far as in the fifteenth century, was "sucked out" of the window of his room by an unknown force together with all furniture, books and his horse. He flew some distance and drowned in the lake near the castle. O'Donahue is considered to live in the grand castle on the bottom of the lake and to watch attentively over everything that happens on the surface..."
The ancient legend says so... And, damn, we should believe them...
And while he is watching like this over Killarney and us, let's come back to...

West End House, where, sitting on wooden benches with soft mattresses under our bottoms, we are looking at the street from time to time, which is half-hidden with chequered curtains from our sleepy (due to the time lag) eyes and are tucking away all the faeries of cooking by Josef Fassbender which our stomachs can get during one lunch... And, frankly, feeling the only one wish: that visits here and the possibility to enjoy all these delicacies should last forever...
It seems, we're wandering all the time...
And now... a few more concrete details...
Michael's parents Josef and Adele Fassbender "took over the West End House in 1993 and steadily built up an excellent reputation for superb food served in cozy surroundings."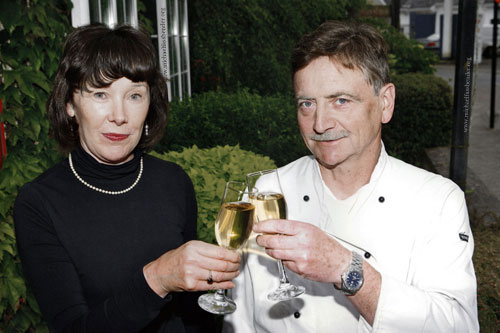 Adele and Josef Fassbender celebrate Michael's success at the Cannes Film Festival in the movie "Hunger"
Special Portrait for "Kerry's Eye" on 27th of May 2008


Josef... "Dad"...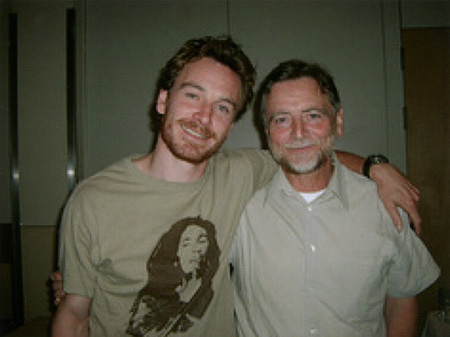 "Josef brought considerable skill and experience with him to draw an exciting and varied menu which will guarantee that dining at the West End House will be a memorable experience." Prior to opening his own business, he made a successful career in a number of hotels in Germany, Spain and England, including the famous Savoy in London, after which Josef completed his Masters... In Ireland "he became well known to Killarney diners as a chef in the luxurious Hotel Europe and as Head Chef at the Hotel Dunloe Castle."
About culinary talents of his father Michael speaks smiling: "His rack of lamb is excellent. I was pretty spoilt, food-wise, growing up".
Yes... we had no time to get to mutton ribs... But we had the possibility to become sure that Josef was an Incredible Chef, and that his art of cooking can be called Haute Cuisine in the full sense of the word...
Up to now, while remembering his warm words:
"Eat-eat... How is your food? Is it tasty?" - We're melting in saucers and plates as happy unfrozen ice-cream...
Thank you, Josef! That was delightful...That was absolutely "Taste. Enjoy. Remember!"
And Irish coffee "from Adele and Josef" during out last August launch is still warming up and besotting a little... at this very moment...
Adele... "Mum"...
Michael often says that his interest towards the World of Cinema has been encouraged exactly by her...
"My mother loved '70s American cinema. Her favorite actor was John Cazale. He died young, but he appeared in masterpieces. In "The Godfather", he played Fredo, the most thankless sort of role, and he was magnificent."
We were glad to hear about John Cazale and his Fredo... This role has always been in the shadow for some reason... by the reason absolutely unknown to a film fan and due to ordinary superior cinematic injustice... and after all... if you really love cinema, you can understand many things and it will be your personal experience, which will remain with you forever...
Adele certainly always had not enough free time, which was taken away by her work at home and in the restaurant... But she was always very attached to the cinema... One of her favorites, by freakish coincidence, was a German director Rainer Werner Fassbinder, who, contrary to numerous affirmations and endless questions of journalists, has no relations to this family, by all means... And, nevertheless, he has become a relation... in some ways... sometimes helping with the consonance of their surnames at audition... (here we'd like to put down a "winking" or "cunningly grinning" smile, but we'll abstain not to overload the page)...
Adele comes from Larne, Country Antrim. According to family lore she is great-great-niece of Michael Collins, the leader of the Irish revolution of 1920, who helped found modern Ireland. "We're only going by my grandfather's word, - says Michael in one of the interview, - but ? I believe it".
However, in spite of probable glorious battle past of the ancestor, the politics was never discussed at home... But there's something very precious that's worth mentioning, which the mother always underlined? what Michael remembers up to now: "any kind of violence was wrong..."
"We moved to Ireland when I was two and we settled in Killarney, Co Kerry. Where we were living in Germany is very industrial and very grey and my parents wanted to have countryside around for my sister and I to grow up in."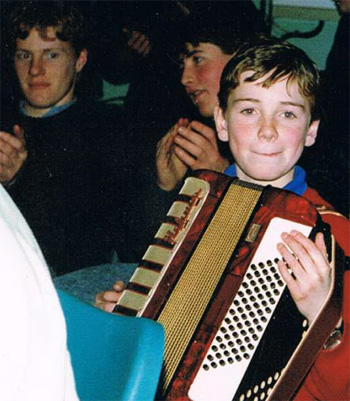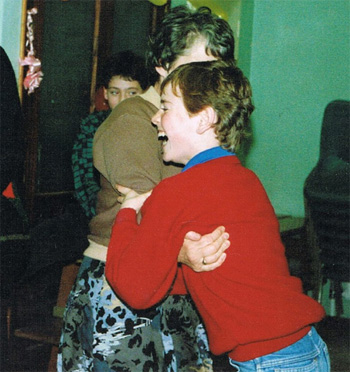 "I had the keys to the church and had to open it in the morning, and attend all the masses and weddings and funerals and whatever it entailed for that month. And lock the church at night. That's quite a lot to do at 12.

And I remember a couple of times I slept in. And the whole congregation was waiting outside the church. And we had these American priests who'd come to visit, and I'd be running across the fields with the keys. It was so crazy to think it was in my hands. But that was my first experience in a way of being on stage, before an audience, of sorts.

The suspense of reality - the idea that wine turns blood and bread turns into flesh - was very visceral thing to deal with, and the ritual and theater of it."

His experience of the Catholic church generally was benign thanks to his local priest, Father Galvin, who was, he says, "very cool. It's not all bad and abuse of boys. A lot of people relied on him. He would be there to listen. Obviously the idea of hell and suffering is kind of heavy-duty, but there was a lot of positivity."
"I remember hearing that the spirit was always next to you, so I would always make a room in my bed for the spirit. I'd make room for the teddy bears, Jesus and me. And then I'd wake up in the morning, and I'd squashed'em all."
"When I was very young, like, you know, four or five years old, and all the kids in my direct neighbourhood were about three or four years older than me. I spent a lot of time with my own imagination and creating my own sort of world.

It was like, 'Off you go, as long as you're back here at 5.30pm for dinner, you can do whatever you want,' and so there was a great freedom to that. There was a lot of inspiration around a lot of space. And Ireland as well, there's a great tradition of storytelling..."
"I try not to take myself too seriously. When my best friend in Killarney, Emerson Johnson, and I were in school together and we'd bunk off at lunchtime sometimes, I'd always be really nervous, but I remember he used to say 'what'll it matter in 100 years time?' and he's right."
"I do enjoy cooking and I can cook the basic things. I'm definately not afraid to go into the kitchen. Obviously I grew up around that sort of world, so it's not something that scares me.
My dad would probably say I should be cooking a lot more, because I haven't been doing much for the past years. he gave me a Jamie Oliver cookbook recently - now there's a man who should be Prime Minister for all the positivity he brings into the world!"
"'Star Wars' was really the only sci-fi sort of fascination I had as a youngster. I collected and I've still got the AT-AT and the Millennium Falcon and the Ewok village.
I sort of passed them on, I think, and I took them out of their box.

[Describing the Ewok Village, a model of the living area inhabited by the furry alien race] It's three trees or four, perhaps, joined together with a platform bit, it's kind of cool: you go into the trunk of one and come out of another, there are some winding trap things..."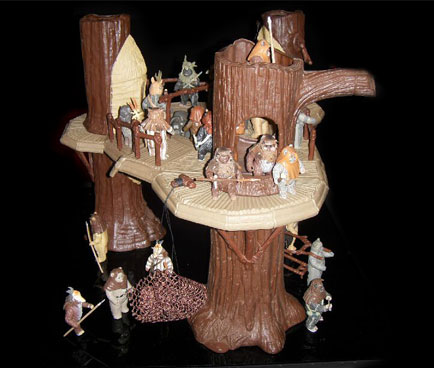 When he was 16, his parents allowed him to move into rooms above the restaurant in town and live a relatively independent existence in return for doing weekend shifts downstairs. "It was very cool. I didn't take the piss; I respected the fact that they were letting me live like that. So it was a fair trade-off. And I've always been more inclined to go out to work than carry on with academic studies. My sister was opposite to me, she loved reading. Always asking questions. Signs of intelligence at a young age. I was much more interested in my imaginative world. And building things and being more physical."
Michael recalls: "I though I was a superman [adds seriously: 'I still do'] when I was like... I don't know whatever age it was... Six, seven... You know, I thought that I could like hear a buzzing in my ear at night, when I was in bed. And I thought it was like kryptonite sort of calling me to the carriage, you know. I never get up, I was too lazy. But I did get the outfit... I wanted to take it to the swimming pool to practice my flying, but my parents didn't let me, so I practiced after the coach instead... That's what I used to say to my sister, I was like: 'Look! Look! I flew a little bit further, it's happening...'"
"My cousin and I had a good game: he would be dressed a civilian, child, of course... And then he ran behind the bush and I come out... You know... Dressed like Superman... Almost like the phone box, but we used bush...">
"I can dive, though... It was in one of times when I was out of work as an actor, I did set myself to challenges, and one of them was diving after high things, I don't know, it was like 10 meters high, I was twenty three... And I was up there, and I was kind of walking to the edge and then backing out... These kids came out and they were like jumping off sideways, so I was standing and then the kids came back up again, and they were like ten-eleven, and one of the kids came over to me, and he was like: "You haven't jumped off yet?" He was like: "First time you will jump off you gonna get hurt a little bit, but it wouldn't be as bad as you think." So I took it as advice and dived off, I did get hurt, but after that I was up and down on the stairs, and I jumped off again, he was right! Listen to the children..."
I can manipulate metal... Yeah... So I practiced everyday with a spoon in my kitchen, I did my Uri Geller...
Again, it was that flying thing, I was convincing myself, I was like: "it bent... did you see that? It bent a little bit." There was no one else in a room with me thought...
What movie scares me the most?
Jaws! For I remember when it came out, my mother... I sound like I'm such a mummy's boy, I'm like: "My mother..." But she was like: "Don't watch it, you'll gonna have nightmares." I was like: "no, no, no, I wanna watch it!" And my grandmother was like: "Let him watch it, he'll be fine!" And, of course, that night I was lying in bed, there's no water near me, but I was really upset...
I remember being very upset when I didn't get to see "Flash Gordon", I remember we queued up outside local cinema in Killarney: my dad, my sister and myself and it was full capacity, so we missed out... And then I remember VHS, when VCR first came into play, we've got a video tape of E.T., but it didn't work on the video? so I remember the frustration of that... For some reason those two frustrations always come to mind when I think about early cinema experiences...

Then, of course, "Superman" has a big influence on me, enough for me to think I'm a Superman also... I suppose a lot of American television, cause in Ireland [and specifically in rural part of Ireland] we only got two channels RTE1 and RTE2, so we didn't have BBC or the British channels that you've got in Dublin, and so a lot of the programs on Irish TV were from America, so... CHiPs, Simon & Simon, Scarecrow and Mrs. King, The Fall Guy, The Night Rider ? all those things...
"I've never really thought of myself as good looking. I think of myself as, you know, alright. I used to have bad acne as a teenager, so all of this is a bonus now, the fact that I don't have pimples any more.
And my hair was also, you know, unfortunate. I had really long hair. I mean, I tied it back most of the time, but I had all these frizzy bits coming off the top."
There's something else... Something that Michael said about his father...
"If you're going to do something do it properly," - he recalls, sitting up in his chair. "If I came home with 85 per cent in a test he'd ask: "What happened to the other 15?".
From the point of view of an Irish boy, he wasn't "Very lucky" with his name... And he was teased during the whole first years at St.Brendan's College (Irish: Colaiste Bhreanainn)...

"You can imagine the combinations you can make with a word like Fassbender."
But these are only the miracles of an ordinary childhood... In fact, insists Michael, Germany and Ireland actually have a history of goodwill...
"Somebody told me - this could be wrong, but never let the truth get in the way of a good story - that the German football team's away strip was green because Ireland were the first to play them after the war."
And that will probably be our last mention of the combination of German and Irish roots... Because it's really worth respecting the opinion of their heir himself: "I've never felt myself only Irish or only German"...
And how much we would like that all the journalists asking endless standard and not quite tactful questions carefully puted into their proper heads have done the same thing... When he was a teenager, Michael wasn't thinking about the actor's career...
"At 17, I had no idea what I wanted to do. I was not really good at school. Just average. I was pretty clueless and irresponsible. I had long hair and wanted to be the guitarist in a heavy metal band. I thought that I might become an architect, but I can't even draw. Then I thought maybe journalism and that's something I might have got into if I didn't go into acting. English was my favourite subject. But again would I have made the points? I don't know."
But it was the time of his first acting experience:
"I was 17, it was one of Cinderella's stepsister in a school play".
"With wig?"
"I didn't need it! I was a metal guitarist, I had very long hair".
Wanted he to be a musician?
"Yes, I wanted became like Kirk Hammett from Metallica.
Playing guitar in a heavy metal band was the goal. I practiced two hours a day, every day, whenever I could when I came home from school. I remember my friend came around with his guitar one day, and he blew me out of the room. I was like, he's got what it takes; I don't.
By the way, it was just two of us in the band, it's always hard to find a drummer and a bass player in a small town, we couldn't find the back-up so we just went out as we were.
Once we tried to busk but it was raining, so we persuaded this guy to let us play in his pub. We only played one gig. It was a little pub, it was lunchtime trade and there was middle-aged people and we were trying to play Metallica and they kept telling us to turn it down.
In the end we were playing on unplugged electric guitars, so we said, let's just give it up."
Who knows how the things could be, if, as it's common to say, "some day" Michael didn't notice a sign...
"It was while I was a student at St Brendan's College in Killarney.
There was no drama classes or anything like that in our school and this guy Donie Cortney who had been a past pupil at Saint Brandon set up the workshop classes (one day I noticed a sign on the notice board offering a new activity for Wednesday afternoons).
I was curious so I went two or three of them and then there was no more word of it, and I was like: "Oh, no, I really enjoyed that". And then I saw him in town and I was like: "What happened to the classes?" and he said: "Look, I've started a professional company, called Bricriu in Killarney, why don't you come and do some part time work with us?"
That was it, you know. I was seventeen when I joined the Doney's company and we did pantomime, puppet theater, a lot of sketch work, improvisations ? stuff like that at the workshops...
So it's really thanks to Donie and Bricriu that I got started. Donie opened up the whole world to me".
Most likely, Bricriu theatrical company is now gone, but we would like very much to join to Michael's words...

Thank you, Donie!
Thank you, Bricriu!
Thank you for Michael get started...
You've opened a whole world for us!
The wind was funning with our hair as it wanted to trying to wrest the camera - probably, he was sure in the photographer's talent of his own and wanted to prove it... Well, maybe, he was right, and he would have make it much better, if we had given him a chance... Sorry if some photos will not seem rather masterful to you... We just wanted to show you Saint Brendan's College as it is... As it is now... as we have seen it...


And besides that... we wanted very much to imagine Michael running to school in the morning...
"I have to say the Irish education system is really top notch," he says reflecting on his days at St. Brendan's in Killarney. "When I was in primary school in Ireland I learned about the battle of Thermopylae and 300 Spartans when I was six or seven years old. There was a real love of learning language and poetry. and we were taught history and geography. It was very well rounded."
Quite soon, the meeting with Quentin Tarantino was awaiting for him, and no one could say the time for it hasn't yet come... And that it's rather a long way to 2008 - 2009... Of course, further on we'll speak absolutely not about "Inglourious Basterds" and the lieutenant Archie Hicox...
At this time, the lens has "captured" unforgettable "Reservoir Dogs and Mister Pink"... (Here once more should be a numerous winking smile...)
"Donnie a sort of taken me under his wing... I have been studying in his group already for six or eight months. And then I thought that, if I would have managed to gather a company of my friends, it would be a good idea to try to make something own. So, I merely have gathered all my friends together. At first we, by some absolutely silly reason, wanted to shoot our own version. In the school cloakroom we were playing the scene at the warehouse, and at that moment I just turned to my friend Marco and said: "You know, Marco, it'll match the scene. We can make a stage version of that!". What we really did, having realized our idea in a night club. That was a great success and some kind of a "curve of learning" for me, because I?ve just run to the naivety, that was something like: "Yeah, I?ll direct it. I?ll play Mr. Pink"...
Now journalists write about that in the articles about Michael differently... Pompously and prestigious...
For example, in such a way: "He adapted for the stage and made a production of Quentin Tarantino's "Reservoir Dogs".
In a word, the real light weekdays of black PR... or "Absolute Power"...
And at that time everything was not so cool... but took place anyway...
He really played Mister Pink, whose part in the film was played by Steve Bushemi, but, according to Michaels's words, "more like Robert De Niro's character, Johnny Boy, in "Mean Streets".
"It's that naivety that gets things done, that lets you go for it and learn from your mistakes. People like de Niro, Pacino, were in their late twenties when they made their best films, and when I was 17,18, I remember thinking, "God, that's ages away!" But everything was just beginning...
"I remember saying to my parents that I wanted to do acting. They told me to get a degree first. But I insisted that I had to do it."
So, after having graduated from the college, against advices, he went to Cork in Colaiste Stiofain Naofa, where he has passed an annual training course which became the next step...
Teacher of Drama has sent an able pupil to London having recommended him to 'Drama Centre London', where he had to study for three years...
And there he ended up working in a bar at Victoria Station to make ends meet.
"Yes, it was 3.29 pounds an hour. I'd do an 11-hour shift on a Saturday and an 11-to-4 on a Sunday and by the end of it I was knackered. And they had me on emergency tax as well, so at the end of the week I was seeing something like 15 pounds.

It was a real struggle for the first three years and to be honest, I don't know how I did it.

I love the fact that I can afford to take the Tube without worrying about it. I keep an eye on the money I make because it's important for me to make sure that I don't go back to counting every 50p. If you can survive in London, you can survive anywhere."
"Now my home is in London. I love animals and would love to have a dog, but the nature of my work means I'd have to put it into a kennel and put it through quarantine and all that sort of thing and it really wouldn't be fair to the animal..."
However, in the English theatrical society bent on purity of the language and correctness of pronounce (read: full absence of any accent) Michael felt himself quite uneasy with his "little spelling features"...
Let's wandering for a little while and take notice that even what was some time hampering his normal study has been turned by Michael to advantage in his favourite job... He added some especially learned accents to those he already possessed, as well as various degrees of there presence in his speech; he also added dialects... And that has helped him in getting roles...
What particularly we know about the accents that Michael uses in his work?..
So, he has at his "store": RP (or Received Pronunciation), Southern & Various Northern Irish, Scottish, North & South American, German.
On his last year, he gives up the studies...
"Why? Because I'm a quitter by nature," he says and laughs. "No, I'm not. The school was good with great teachers but drama schools can be strange places. You start off with 32 students and when I left there was 18 or so remaining because people were getting kicked off or whatever. It was pretty harsh and it got really bitchy and ugly. I got an agent after the Christmas showing and reckoned I had learned as much as I could. That mightn't have been the smartest thing to do because for many years people didn't know who I was."
The school has a practice called 'Private Moments' where students are asked to perform something they would stop if someone caught them at it. Michael's involved dancing and singing in front of a mirror.
Was he asked to stip like one actress who got into such a situation, asked journalist. "No, I wasn't! And you know what, I would have told him to fuck off if he did. That's horrible. I guess a lot of people were forced to do things there that they wouldn't have done, because they didn't want to get kicked out. Actresses in general in that school got much harder time."
"For workshops they [teachers] just brought past pupils that wanted to come back to school, that still had that a "thousand-yard-stare"... So the theory was to break you down and then put you back together again, but I have the feeling that lot of the cases they just had all these bits around, they was like [looking at the bits and then throwing them away] "Off you go! Go to the acting world! Good luck!"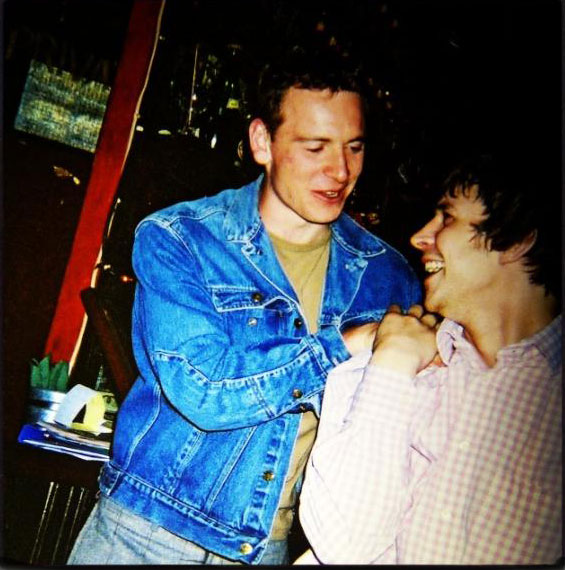 Michael with his friend, Mark Haddon, in London Pub...
Picture is a gift from Mark...

After that was what he calls "the lean years"...
After farewell to 'Drama Centre London' he managed to go leave on tour with the play "Three Sisters" from Oxford Stage Company... there is no mention in any interview or article about what part he got in this play; but it is well known that for his participation in it he took the lessons of "Russian dance", and later he said that it looked very much like breakdancing.
And then nothing. He worked in a factory, unloading boxes.
"That kept me going until February when I thought "what the hell am I doing?" and I quit that job. I went back to bar work and started auditioning again. That's when I got Band of Brothers."

These HBO/BBC mini-series, which were produced by Steven Spielberg, were popular and had success with critics...
It is strange, but Michael almost never speaks about the role of Hermann in the youth serial "Hearts & Bones" (3 episodes, 2001) directed by Roger Goldby ? John Alexander, obstinately considering Sgt. Burton 'Pat' Christenson in the seven episodes of the Spielberg?s film as his first work on TV...
That means it should be like this...

"I thought this is it, I'm on a roll now. This is Steven Spielberg, so here we go. But there were so many of us running around in green... When that ended I was out of work again. Weeks became months became years. There were times when I was thinking, 'you didn't go to university, so what are you going to do if this doesn't work out?'. We had the restaurant (The West End) in Killarney and I had been involved in the catering trade since I was 16, so I figured I could open my own bar. Then the auditions started coming again."
Possibly, the result of one them became an involvement in the "Hex" project, which Promo-slogan made more than one heart beat faster pending the premiere...
"There's only one Angel here... And he fall a long time ago..."
"And the whole Earth has been corrupted by Azazeal... To him ascribe all sins..."
- So it's nice to get positive press..."
Azazeal, the head of two hundred Nephilim, created by Michael on the screen became the reason for creating endless fan-sites in the Internet. There can be easily found there just now, you should only enter a brief word "Hex" in the browser...
Michael himself enthusiastically speaks about that: "They've been great on those sites, amazing. I could never do anything like that ? they?ve even made up showreels of me..."
That's, perhaps, all we can permit ourselves to tell in this section...
Read the interviews...
Watch films where in titles you'll see the name of Michael Fassbender...
Of course, some of them are no longer available on DVD, but we have made a lot of screencaps having preserved fragments of the slogans of all those scene, where Michael played, and on the site you can, albeit a little, get to know each of his work...
It doesn't matter if this role is small or big... main or not... It will all the same be interesting and strong... Simply because Michael can't do otherwise...
And that's quite sure...
We never "throw words to the wind"...
You may even deposit our words to the bank, if you want to...
And further... will be further...
Along with Michael...
Step by step... Shot by shot...
"Click on the button, Max!"
If, while reading, you've found any inaccuracies or distortion of facts, excuse us... The sources were quite official, but, yet, multilevel... It's not always appropriate... not always correct to ask a concrete questions to a concrete persons, all the more to a friends... and that means it's not always possible...
So we didn't do that...
If you have more exact information, you know where to write "to gave us cuffs"...
Thank you for assistance...