Michael Fassbender is hot. Too hot. And not because the searing midday sun has pushed the mercury past 30°C in Malta. Nor are his ornate robes to blame, even if they seem toasty enough to keep him cosy in a blizzard. Instead it's because, all around him, Assassins are being burnt at the stake. And he's next.
It's mid-September 2015, and Total Film is in Valletta, Malta, desperately seeking shade on the scorching set of Assassin's Creed – the big-screen adaptation of Ubisoft's staggeringly successful series of time-hopping videogames. In the courtyard of a recently restored baroque fort on Manoel Island, a 600-strong crowd of soldiers, peasants and religious zealots, many adorned with macabre masks or ram-horn headpieces, has been whipped into a frenzy by the barbarism on display. Tiered seats surround a raised platform, where seven charred corpses (several still blazing) remain chained to 10ft poles, lending this auto-da-fe a carnival atmosphere. In the royal box sits Tomas de Torquemada (Javier Gutierrez), the first Grand Inquisitor of the Spanish Inquisition, and his right hand man Ojeda ("a real motherfucker" according to manmountain Hovik Keuchkerian), both senior figures in the Templar order. They're here to watch Aguilar de Nerha (Fassbender), Maria (Ariane Labed) and their fellow Assassins burn, putting an end to centuries of clandestine conflict between the Assassins and Templars in Spain. But Aguilar has other plans.
In a dazzling display of somersaulting athleticism, Aguilar breaks free of his shackles and begins work on busting Maria out of hers. Removing a sword embedded in a nearby pole, he kills an encroaching guard with a single swipe while Maria snaps the neck of another with a twist of her legs. Now liberated, Maria and Aguilar team up to make quick work of their assailants, until a hulking executioner steps up to finish what he started. Maria rolls to avoid the arc of his enormous axe before it can cleave her in two, as Aguilar wraps a nearby rope around the man in black's neck. Back on her feet, Maria keeps the big man in place as Aguilar picks up the axe, swings and... "Cut!"
All this unfolds in seconds, Fassbender and Labed hitting their marks take after take amid the smoke, heat and acrid smell of smouldering charcoal. And there isn't a single greenscreen, wire or tennis-ball-topped stick in sight. "Most of the fights are us," Fassbender says of the film's commitment to flesh and steel realism – breathless and drenched in sweat, to further prove his point. "It's clearly Ariane and myself, 95 per cent of the time." The Brotherhood of Assassins has made the leap to the big screen, and boy, are they about to make a killing.
Almost a year later, August 2016, and director Justin Kurzel can see light at the end of the tunnel. Post-production has lasted nine months, and now he's just "two to three weeks" away from locking picture. In eight days he'll fly to LA to show the (more or less) finished film to an audience for the first time, but tonight he's talking to TF from the film's London edit suite, where he, editor Christopher Tellefsen and Michael Fassbender have been finetuning the film for months. Stars hijacking the edit is almost always a sign of major problems behind the scenes, but Fassbender has a better reason than anyone to be present. As a producer on the film, he was one of the first people on board.
"He's taken this on as a really big love project," Kurzel says, the easygoing Australian, as thoughtful and seemingly unfazed by the scale of the project today as he was during the film's gargantuan shoot. "It's not something that he just thought would be good to do. It's really been a passion of his, and something he desperately wanted to be part of."
Describing their collaboration on Assassin's Creed as "much more all-consuming" than the typical actor-director relationship they shared on last year's rapturously received Macbeth, Kurzel has nothing but praise for Fassbender the producer – a career path the 39-year-old Oscar nominee set down more than two decades prior. "I started acting when I was 17," Fassbender recalls, the actor in high spirits a year on from the physically demanding shoot when TF catches up with him in a blissful, inferno-free London hotel. "Six months later, I had formed my own production company and we were putting on a play of Reservoir Dogs in my town. So I was always interested in being more involved than just as an actor."
With his company, DMC, Fassbender produced 2015's Slow West, but Assassin's Creed marks the first time the actor has taken an active role behind the scenes on anything approaching tentpole size. Having witnessed another of their properties – Prince Of Persia – fail spectacularly in 2010, game-makers Ubisoft were determined to do things differently, establishing a separate film division and finding the right man for the job before all else.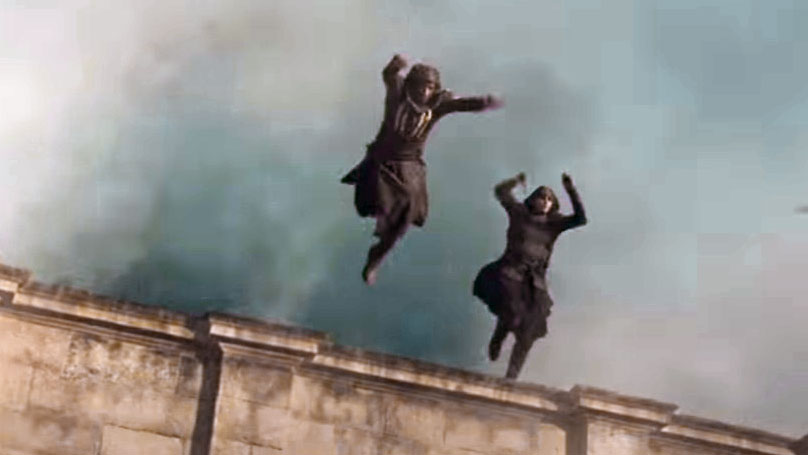 "We started in 2011," Fassbender says. "I sat down with the guys from Ubisoft, and they introduced me to this whole universe. I'd seen billboards and trailers, but I'd never played the game." After honing the script with writer Michael Lesslie (another Macbeth vet), they needed the right director. The answer was literally staring Fassbender in the face. "[Justin and I] were in the middle of filming Macbeth and I mentioned it to him. I said, 'Do you have any interest in doing this kind of film?'" Fassbender remembers, before cracking a wolfish grin. "He was like, 'Fuck yeah! Let's go!'" The director of unflinching indie crime drama Snowtown and text-faithful Shakespeare adaptation Macbeth may not seem like the obvious candidate for a franchise-launching, videogameinspired blockbuster, but you'd be hard pressed to find a more exciting choice than Justin Kurzel. And there's little question his astonishing work more than speaks for itself. Like Fassbender, the director had never played the games but was drawn to the project by a concept that powers the series – that the memories of our ancestors live on in our blood. The sci-fi twist? In Assassin's Creed you can experience your forbears' memories as if they're your own using a machine called the Animus. "That's a very moving thing, especially if you've experienced loss in your life," Kurzel reflects. "My father died in 2006. I went through a really horrid time about mortality and that disconnect. I've just had kids and you really think about the fact that things don't die, that things do travel. It's not about a spirit, it's actually about your blood. There's something physical there."
"I found it fascinating, it seems so plausible to me," Fassbender adds. "That alone, I thought, would really elevate a fantastical story above most others out there. I knew we had something different and visceral. It was almost like The Matrix, but better, because this actually made real, scientific sense."