A Stage Built for Walking and Talking
The set itself is a testament to Kurzel's serious approach for a blockbuster about jumping through ancestors' memories via DNA. Constructed on the 007 Stage at Pinewood Studios—the one that Eon Productions had built to house a submarine-eater in The Spy Who Loved Me—Assassin's Creed is primarily using the space to create a sprawling set-piece that is as uninterrupted as Kurzel/Arkapaw's aforementioned shots. Designated almost entirely to be part of Abstergo's ominous Madrid Headquarters, the filmmakers behind Assassin's Creed have used the space to form a giant track comprising that facility.
And having walked the layout several times—with producer Patrick Crowley providing the first and most thorough tour—its benign oppression is effective. Instead of walking between sets, the space acts like a real floor plan for soothing imprisonment with a massive hallway as its centerpiece. With no windows present, the simple size of the lengthy hall, which is dotted by branchless trees kept in soilless pots, becomes its own kind of mental torture. There are also multiple stony archways and exposed brick, which hint at the building's more ancient origins—Kurzel suspects it used to be a Byzantine Templar church that Abstergo has wallpapered over—but now it just adds to the a strange secular-occultist affectation.
While each room in this track has a distinct feel, all of it is intentionally overwhelming at first brush. When we chatted with Andy Nicholson, the production designer on Assassin's Creed, he repeatedly made clear that the set is meant to be a character in the film, one of windowless submission.
"If you just woke up, how would you escape, where the fuck would you go?" Nicholson said. "You run down the corridor, and it's like, 'There's a staircase. Does it go anywhere?' Or if you cross here, does it go anywhere? That sort of thing is the embodiment of this building."
Indeed, but it is also easy to quickly imagine that the multiple staircases and catwalks that also decorate the great hall—alongside lit-up Abstergo signs that gamers are all too familiar with—could one day make for a terrific fight sequence and several well-placed parkour jumps.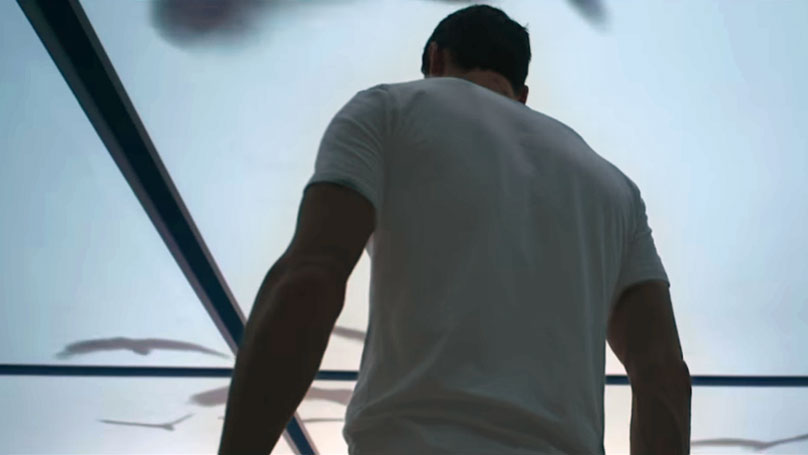 Some of the other spaces that we toured included the bedroom/holding room that will mark Callum's prison cell. It is again mostly concrete and glass that encloses a darkly lit twin bed, and its depressing green blanket. However, it is also rather large, which will inevitably come into play as Crowley confirmed that Cal will have "bleeding" effects here—where his 15th century ancestor Aguilar will come to his modern descendant in visions, training him to be a deadly Assassin in 2016.
Finally, connected by other passageways and atriums designed specifically for the movie is a massive common room where Abstergo's "patients" will undoubtedly spend most of their time. In the center of the room are four stainless steel picnic tables with connected and equally spotless benches. Each one features a childhood game that has been appropriately dehumanized: would you care to play black and white checkers or simply metallic and gunmetal gray chess?
The only color in the room comes from one wall that is lined by a garden. With a raised floor carved out of wood, one imagines that Abstergo's patients might actually find solace in the greenery, although the irony that most of the plants are still kept in metallic cages could not be lost on them. Also, there are some curious voodoo dolls and herbal potions hidden away in the garden area that will likely come into play for Michael K. Williams' character, a fellow patient who has been at Abstergo for years before Cal got there. His character's name is Moussa, but at this point he probably should be called Baptiste, his 200-year-old ancestor that was a voodoo Assassin known to dabble in poisons.
Directly across from the garden—with those steel picnic tables in between them—is a control center where Abstergo's best and brightest are constantly monitoring their "patients," and seeing what they do when they aren't spending their days communing with their ancestors.
"It's not a secret, [the patients] have powers," Williams told me during an interview. "So, they know Moussa plays with magic and things like that. And they encourage that we do these things, so they can cipher it out of our brains into the things they stick into the back of our heads. So, they give us little safe havens, the environment is to play with our gifts."
If there is not a patient/Assassin uprising by the end of the movie where someone goes through that glass window, I'll eat my Ubisoft hoodie.

to be continued...